Building community by harvesting locally grown food and turning it into lovely meals and products to share.
Saturday 29 July 2023
Posted by

Karina
at 09:55
No comments:

Saturday 1 July 2023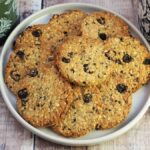 Fruit & Seed Oatcakes
A lightly sweet version of classic Scottish oatcakes with mixed seeds for a toasty, nutty flavour plus currants. A nutritious snack with the slow-release energy of oats. Great with a cuppa or in lunchboxes.
Cuisine
British, Vegetarian, Vegan, plant-based, Scottish
Keyword
crackers, biscuits, oats
Servings
24
oatcakes (approx)
Ingredients
boiling water from a kettle

75

g

currants

140

g

rolled oats or porridge oats

140

g

fine oatmeal

see Recipe Note 1 to make your own

75

g

mixed seeds

e.g. flax, chia, sunflower, sesame, pumpkin, hemp hearts. See Recipe Note 2

50

g

caster sugar

½

tsp

salt

75

ml

oil (OR 75g of butter, melted)

e.g. hemp, pumpkin seed, olive, or sunflower oil

wholemeal flour (for rolling out)

see Recipe Note 3
Instructions
Put the currants in a heatproof bowl and cover with boiling water. Set aside to soak and plump up.

Preheat the oven to 180C/160C Fan/Gas 4.

Line 2 baking trays with baking parchment or greaseproof paper.

Drain the currants.

In a mixing bowl, stir together the oats, oatmeal, seeds, currants, sugar, and salt.

Make a well in the centre then pour in the oil (or melted butter) plus 100ml of boiling water.

Stir quickly to bring the mixture together into a soft, wettish dough, adding more boiling water as needed.

Dust a silicone mat or your worksurface with wholemeal flour or oatmeal and transfer the dough onto it.

Sprinkle the dough and a rolling pin with a little more wholemeal flour or oatmeal and roll out the dough 3-5 mm thick.

If the dough starts to come apart at the edges, just push it back together with your hands. If it seems too dry then sprinkle over more water, if too wet, sprinkle with more flour or oatmeal.

Cut out oatcakes using a 7cm cutter then carefully (they will be quite soft) transfer to the baking trays.

Bring together the scraps and re-roll to make more oatcakes until all the dough is used up. Depending on how much flour or oatmeal you've used to roll out, and how 'thirsty' your oats are, you may or may not need to add a splash more water to bring together the scraps.

Put the trays in the preheated oven and bake until the oatcakes are golden brown and cooked all the way through. Unless you've rolled the dough very thickly or thinly, they should take approximately 20 - 25 minutes.

Tip 1: After 10 minutes, check that they're not browning too quickly and turn the oven temperature down if necessary.

Tip 2: For even browning, turn the oatcakes over for the final few minutes.

Transfer the oatcakes to a wire rack to cool.

When completely cold, store in an airtight container. Should keep for a month.
Recipe Notes
Note 1 To make your own fine oatmeal, whizz rolled oats or porridge oats in a food processor, blender, or coffee mill until finely textured.
Note 2 Roughly chop any larger seeds such as pumpkin. You can also replace some of the whole seeds with ground: this is thought to increase the nutritional value of some seeds e.g. flax, chia.
Note 3 I prefer to roll oatcake dough on wholemeal flour as it's less sticky than oatmeal. However, you can use more oatmeal if you prefer.
Posted by

Karina
at 10:13
No comments: